They say art is 1% inspiration and 99% perspiration. That may be true, but all the perspiration in the world may count for naught without some inspiration to guide the way.
As we roll up our sleeves and put in the hours, that lone percentage from our imagination offers up the lions share of the energy to get the job done.
Whether it manifests as a small spark or a big bang, it will expand to permeate the process of creation and linger through both spontaneity and tedium. 
To be true to our muse we must nurture her throughout. And that's not to say she isn't prone to the odd tearing of hair and stomping of feet as we work to convey what inspires us through our artwork…
These examples of sources of artistic inspiration are shown along side the fruits of the accompanying labor.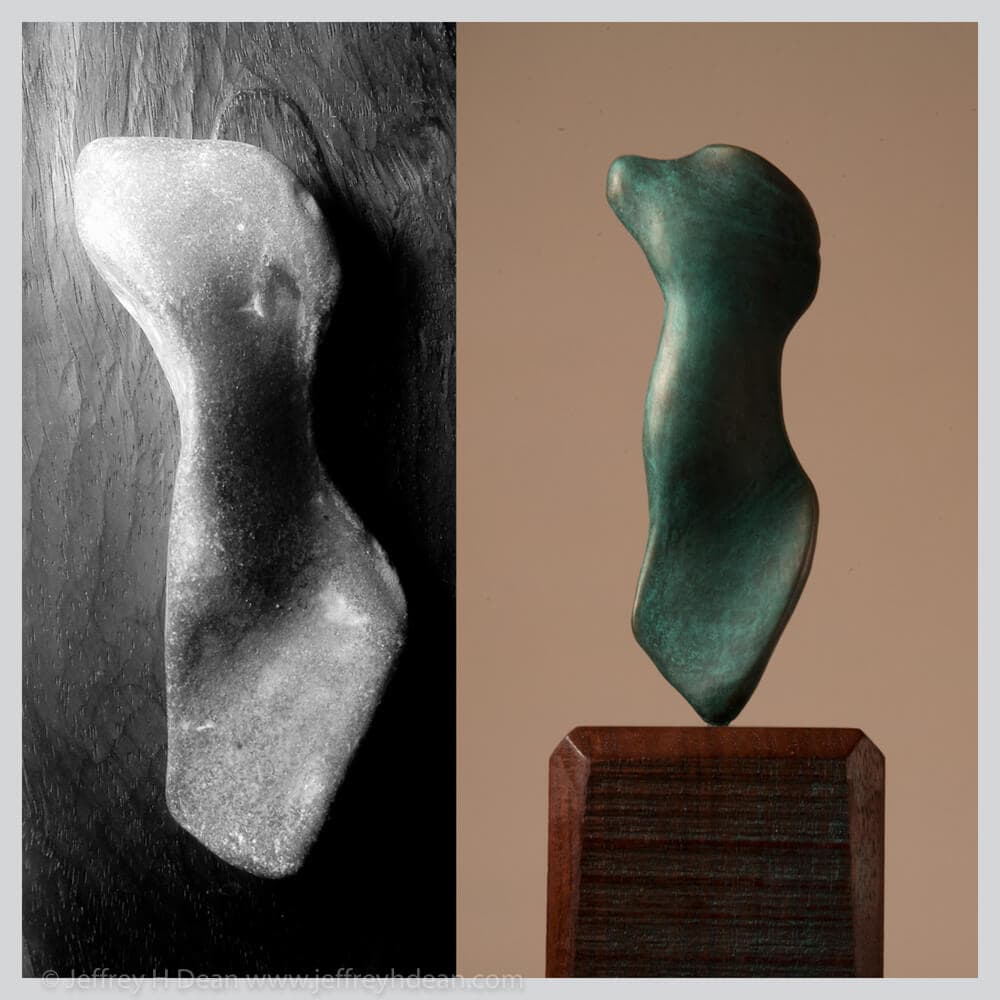 Queen of the Nile
This small bronze torso was modeled after a river-washed stone. It reminded me of an antique Egyptian figure, broken and worn through the ages. I'd love to make as a lifesize figure
Paleolithic Moonrise
When we were young, growing up in Fairbanks, my brothers and I collected prehistoric bones along the banks of Gold Stream in the valley behind our place. We found many a vertibrae, hoof and toe bone which I used in clay modeling classes for the Artists in the Schools program in the 80's. The inspiration for this small bronze sculpture came from a fragment of a mammoth pelvic bone someone had given us.
All the Mothers of the World
I saw this grain and knot pattern on a cedar panelling board in our home. I made the drawing and enlarged it onto a wide, beetle-kill spruce board for this lifesize relief carving. I'll be finishing it up this winter. Watch for more process photos on my Instagram feed and Facebook sculpture page.
Phoenix Carvings
In the 80's I carved several phoenix sculptures inspired by birch seed scales. They littered the snow around my yurts which were perched amoung the birch and aspen trees on a Fairbanks hilltop. The scales have an expansive bird-like shape akin to the fleur de lis, or flower of the lily design found in French heraldry.
Sometimes inspiration comes from a feeling and evolves as we work
Public Art Proposal
Sometimes, inspiration comes more from within. It may be guided by a given theme or feeling. In this case, by guidlines suggested by the public art committee for a new school project. "Having roots in their community, culture, and in nature…, We want our students to understand their role in bringing the "outside in" but also how to "bring the inside, out" as it relates to their community. We celebrate the youthful energy and spirit of our students...it's Middle School!" These three drawings show the evolution of an idea as it is developed and refined. This proposal is for a 20' diameter layered steel and wood wall piece.
Evolution of a Design
This is the design for my current percent for art project. It's for the Kesugi-Ken Interpretive Center at Denali State Park. You can see the evolution of the design from only a landscape to incorporating scenes from your spotting scope around the perimeter and animal tracks in the central landscape. Also, in the last stage, incorporating a human element based on feedback from the art committee.
Inspiration can be found all around us and interpreted in unlimited ways.
Let me know what you see in these images.
The gesture of skate tracks in the snow
The Weathered Root of a Branch
A Chance Arrangement of Sticks in the Sand
Colorful Reflections in the Kitchen Window
A Kelp Fragment at the Beach
A Tumbled Stone
The Form of a Bark Inclusion in a Section of a Board
The Form of a Bark Inclusion in a Section of a Board
Or a Fleeting Cloud
So Let Your Imagination Soar 1%
…and then Get to Work : ) 99%
"If you have any objects that are special to you, or if you come upon a beautiful composition, email it my way. I'll let you know if it inspires me and what I make of it. If you'd like to consider commissioning a sculpture or wall piece from it, we can talk about the possibilities."