Making Art - Beyond the Mystique
There's a fair amount of mystique around the process of making art.
As I took a quick look into our gallery the other day, I had the intention of trying to clarify exactly why I've been making art for the last 40 plus years, What first came to mind was how much of an adventure it is. Admittedly, some tasks can be mundane, but honestly, there is never a dull moment.
From that first spark of inspiration through conception, design, and production, there's a continual process of discovery.
Inspiration itself arrives unannounced whether subtly, or in a flash of glory. It's the welcome 1% we hope will infuse the necessary 99 parts of perspiration—more on that in Sources of Artistic Inspiration.
Sometimes a concept is crystal clear, and when I'm 'in the flow,' the work evolves as an unquestionable sequence of perception and response with my actions being the obvious solution to the 'problem at hand.'
More often than not, it's a process of trial and error – put a little on, take a little off – developing both concept and composition in unison until everything comes together harmoniously.
Commissions are also an adventure. Whether they come as a call out of the blue, a referral from a customer or fan, or when someone I've reached out to is ready to move forward, each client brings their unique aesthetic vision, setting, and theme.
But then, life itself is full of variety and surprise.
The truth is, I rarely question why I'm drawn to making. I think it's just hardwired. My mind can't avoid the challenge of finding solutions or the impetus to add a creative touch to anything and everything.
My sculpture teacher Mustafa Naguib said, 'Art for art's sake is misery, Art for people is life.'
Each of us has our own unique voice to discover, develop, and share. Our gift to humanity. And all personal reasons aside, I'm left with making art for people.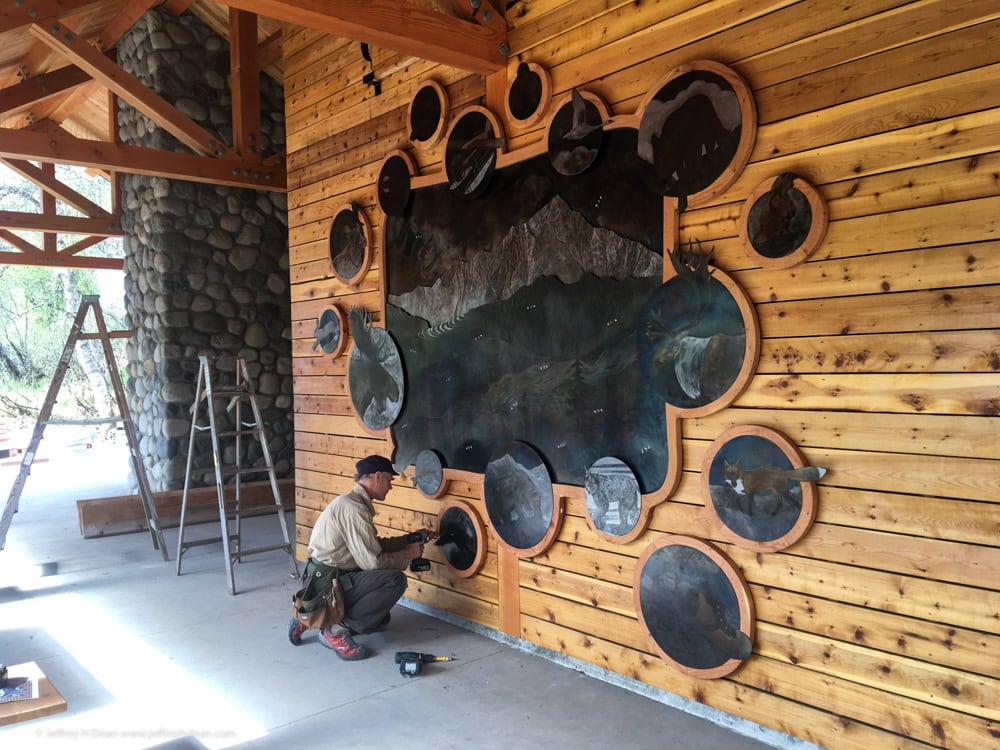 To help me do this better, I'd love to know your answers to a few quick questions.
CLICK HERE to let me know.
I can't wait to hear what you have to say…
"My family and I have come to treasure this work not only for its beauty but for what it has evolved over time to represent in our Alaskan home. "
• Denali Table
"My family and I have enjoyed the beautiful creativity of Jeff Dean's artistic production in our home for nearly 20 years. This has been in the form of the "Denali Table" which depicts various Alaskan wildlife pictured on iron set over a gorgeous wood table with metal coasters set around the table's periphery depicting the "foot prints" of all the pictured wildlife. This piece has been the topic of so many joyful conversations and memories and truly has forged lifetime memories for so many. I value this piece more than any other work of art in our home. My family and I have come to treasure this work not only for its beauty but for what it has evolved over time to represent in our Alaskan home. Thank you so much Jeff for sharing your gift with all of us!"