A PechaKucha presentation by Jeff Dean
This presentation was put together for Homer's first PechaKucha night, July 25, 2019.
PechaKucha 20×20 is a simple presentation format where you show 20 images, each for 20 seconds. The images advance automatically and you talk along to the images.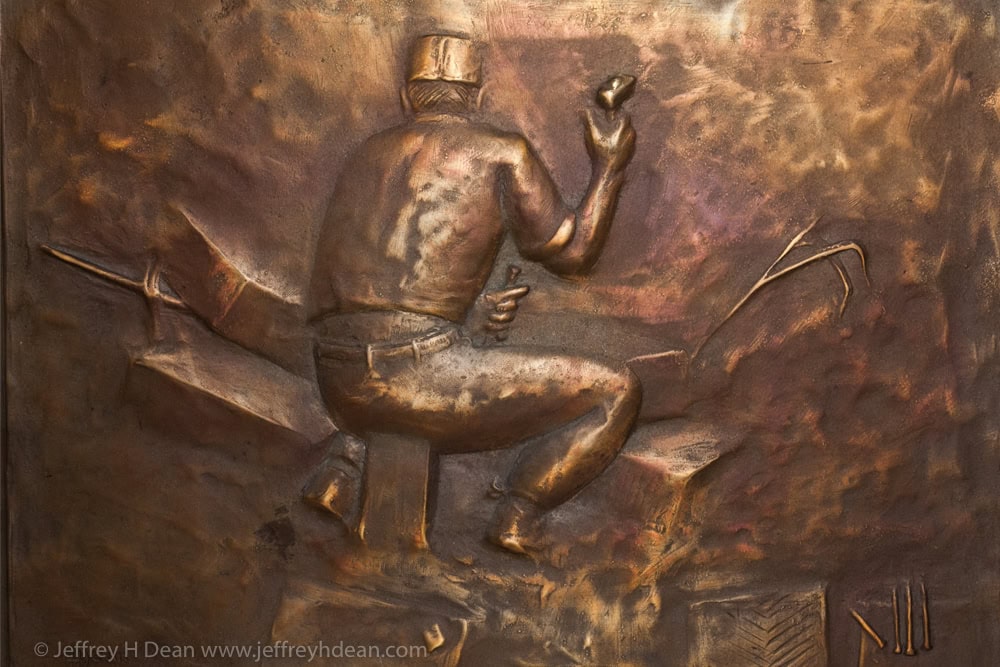 Edison said genius is 1% inspiration and 99% perspiration
It's true for most creative ventures and all the perspiration in the world may count for naught without some inspiration to guide the way.
As we roll up our sleeves and put in the hours, that lone percentage from our imagination offers up the lions share of the energy to get the job done.
I was just out of sculpture school and had built a couple of yurts back home in Fairbanks.
They were super well insulated but it's a wonder I ever kept warm. Every time I split firewood I added to my 'Too Cool Looking to Burn Pile.'
I carved this abstract couple from two pieces that remained bound together by a knot.
Living in Homer, we all know how inspirational our surroundings can be.
We can further prime our creative pumps by extending that to our built environment. What we live with each day goes a long ways towards being at the ready when inspiration strikes.
This was the time when what began as a sturdy door handle ended up as a delicate mobile.
Like many Alaskan tales, The Accidental Phoenix began with a raven.
It was carefully carved and of course needed to be made black. But after a little too long in my wood stove, It was missing – a few too many details.
Ever resourceful, I hollowed its belly, added a marble egg, and my first phoenix rose again.
I've always loved the forms of bones.
As kids we dug prehistoric bones from the banks of Goldstream behind our home.
Bison vertebrae, camel toe bones, horses hooves, and more. As a teaching Artist, they were great for clay modeling exercises.
A fragment of mammoth pelvic bone was the inspiration for 'Paleolithic Moonrise.'
Sticks and stones and clouds and bones; Just a few of the unlimited resources for an artistic imagination.
No matter what the source, Inspiration may begin as only a subtle feeling. The challenge then, is to interpret and distill that essence, in order to convey it to others through our work.
Though it's still unfinished, 'All the Mothers of the World' began with the small grain pattern in a cedar plank.
We're surrounded by an endless supply of these found compositions, and a smartphone camera is indispensable when it comes to collecting them.
Tagged and waiting in my Lightroom software, they're ever handy for future use.
If you just bought a Subaru, you notice all the Subarus.
If you just bought a Maserati, well that depends on where you live.
Whether we notice them or not, inspiring shapes and compositions abound. They're open source, and open to interpretation;
And not unlike an inkblot, we may all see something different in them.
In the early 90s', I was commissioned to make a sculpture for a tall chimney wall in a North Carolina home.
When I arrived, my first thought was of not wanting to hide the beautiful masonry job.
After a good long gaze at the patterns in the stone, I saw a design that would complement rather than cover it.
After a couple of storm-tossed airport nights, the wind and rain subsided, and I made my way to make a mold of a Massachusetts boulder for three bronze crows.
One winter storm,
a double-curved cherry board,
and a client considering a rowboat design.
A bit of the story behind "Nor' easter" which weathers new storms in the Pocket Park beside the Fire Hall.
Making a job easier is often a catalyst for invention.
After timber framing with logs by hand, I knew the difficulties involved.
When we built our barn, I made the first version of my 'Timber Jig.' By the time we were finished, it was Timber Jig III.
Idea and design, trial and error.
It's an ongoing cycle of Inspiration, Perspiration, and Iteration
Artwork can also be made through trial and error.
There are so many possible paths to take, with each step influencing the next.
Here's an example of the 99% at work in the evolution of the design for 'Through Your Spotting Scope,' a large steel wall piece at the Kesugi Ken Interpretive Center in Denali State Park.
Sometimes when I'm at a loss for new ideas I make a grid on a sheet of paper and scribble in each space with graphite and a drawing stump.
This might be the closest I get to spontaneity in my art, but when one catches my eye, I'll continue to refine it into a new design.
I called this one 'Bear Trails and Tall Tails' to justify the oversized cattails.
When I first volunteered at the Fairbanks Arts Association. Hanging shows at eye level involved tedious measurements and calculation.
I had little patience for it, so I invented the 'Gallery Pole' to make it fast and easy.
30 years later, as I prepared for the Arctic Innovation Competition, a solution using only a weighted string Reared its Impish Head.
An empty hayloft and a laden truck,
Fall rain and snow, on goat and yak.
A towering wall with 'Oh what a view,'
Must needs combine into something new.
This combination awning and hay loading deck was built using reclaimed redwood from a water tank I dismantled with a friend in Haines.
Here's another example of evolution by trial and error; where Perspiration came in gallons per minute and Inspiration was hardcoded.
Making a solar thermal system and a wood boiler work together, as well as independently, called for innovation and solutions,
some of which,
like the sun,
came 'Out of the Blue.'
My non-winning proposal for the UAF Engineering and Learning Building consisted of nine designs for engraved steel panels.
After sifting through dozens of images I'd taken, I edited and arranged my photographic sketches in an attempt to illustrate the various stages of the innovative process.
Whether it manifests as a small spark, or a big bang, Inspiration must expand to permeate the whole creative process, and linger through both spontaneity and tedium.
And to be true to our muse we must nurture her throughout.
That's not to say she isn't prone to the odd tearing of hair and stomping of feet, as we work to convey what inspires us.
It's the fuel for our creative fires,
It lurks in plain sight,
and dances in the shadows,
It eludes us when we need it the most,
and suddenly appears when we least expect it…
AHA!  must be time to get to work!